In the Report This Month
CHEESE Marketing Integration
---
Market Watch
---
Survey of Consumer Behavior in Taiwan in Last Month
Channel Impact: Nearly 70% of consumers are going out less; only channels selling daily necessities have been relatively unscathed
Staying at Home: Outdoor events and big gatherings on the decline; time spent at home has risen dramatically
Hot Topics: "Eyeballs" fixated on COVID-19 news; information on promotions, events crowded out
Information Sources: Consumers trust official LINE accounts; information verified less frequently
Social Media Buzz: Big increase in "National Team" discussions, reach
Source: Manager Today, Eastern Online iSurvey
More
---
Post-virus, Saving, not Spending, the Priority in China
Many experts predicted that after China lifted its COVID-19 lockdowns and restrictions, pent-up demand would trigger a surge in consumption. But that has not occurred, as China's physical retailers have yet to see the same boom times they experienced before the outbreak. Their thinking has had to change in a heartbeat, and is now focused on what consumers need, rather than what they want.
Source: Tech News
More
---
Sweets and Sex Reaching the 'at-Home' Consumer
A survey by brand marketing firm GBMH has found that sweets, which give people a sense of comfort and well-being, have done relatively well during the epidemic. That has also been true of another old and indispensable human need – sex. Amid the widespread anxiety caused by the COVID-19 pandemic, sex sites have generated increased traffic and demand. Well-known sex site Pornhub saw a 3.8% to 11.6% increase in traffic compared to an average day from March 11 to 17 as the epidemic worsened in the West.
Source: Storm Media
More
---
Stay-at-Home: Big Opportunities for Video Platforms, Live Streaming
Stay-at-home policies used to combat the spread of COVID-19 have led to a boom in remote videoconferencing, home entertainment, online shopping, and live streaming. According to the latest statistics from Taiwan's biggest video platforms, traffic and paying customers on the different platforms rose anywhere from 12% to as much as 2.5 times in the first quarter. Online live streaming opportunities were also clearly on the rise.
Source: China Times
More
---
Education Site Traffic Soars 1185%! Report on Q1 Trends Offers 6 Major Insights
In a report on Q1 2020 search trends, search engine startup Algolia listed industry categories that have seen surges in search volume in Q1 of more than 200%:
Education: 1,185% growth
Groceries: 618% growth
E-commerce: 408% growth
Financial Services: 309% growth
Health Care: 280% growth
Beauty: 255% growth
Media: 248% growth
6 Major Insights
With people staying home and having little to do, online course websites are soaring in popularity
The fear of going out and buying basic goods has driven searches for e-commerce and grocery sites
People are going out less, but self-grooming still in, leading to big growth in beauty-related searches
The epidemic has battered the travel sector, with online travel site searches down 97%
Searches for sports-related sites, including sporting goods and activewear, have tumbled due to decline in outdoor activities, but one fitness equipment site saw 74% rise in search volume
Real estate market activity has slowed, leading to sudden drop in real-estate search activity
Source: Business Next/Algolia Insights: Q1 2020 Search Trends – A time of global disruption
More
---
Facebook Launches Free Video Calling Services for Up to 50 People
Demand for video calling has skyrocketed recently as people are being forced to work from their homes or to stay at home to combat COVID-19. Facebook responded on April 24 by rolling out Messenger Rooms, which enables users to start a video call on Facebook, Messenger or WhatsApp and invite others to participate. Up to 50 people can be on the video call at any one time, and there is no time limit.
Source: Tech News
More
---
Kantar Taiwan: Food & Beverage Industry Hurting, but Food Delivery Services Up Sharply
As the food & beverage industry in Taiwan struggles because of the COVID-19 outbreak, food delivery platforms are making up for a fall in on-site dining. People are ordering home delivery more frequently, with nearly 40% of users saying they have used food delivery sites more often than in the past during the epidemic.
Source: Kantar Insights Division/LifePoints
More
---
5 Creative Ads Inspired by the COVID-19 Outbreak that Have Gained Big Followings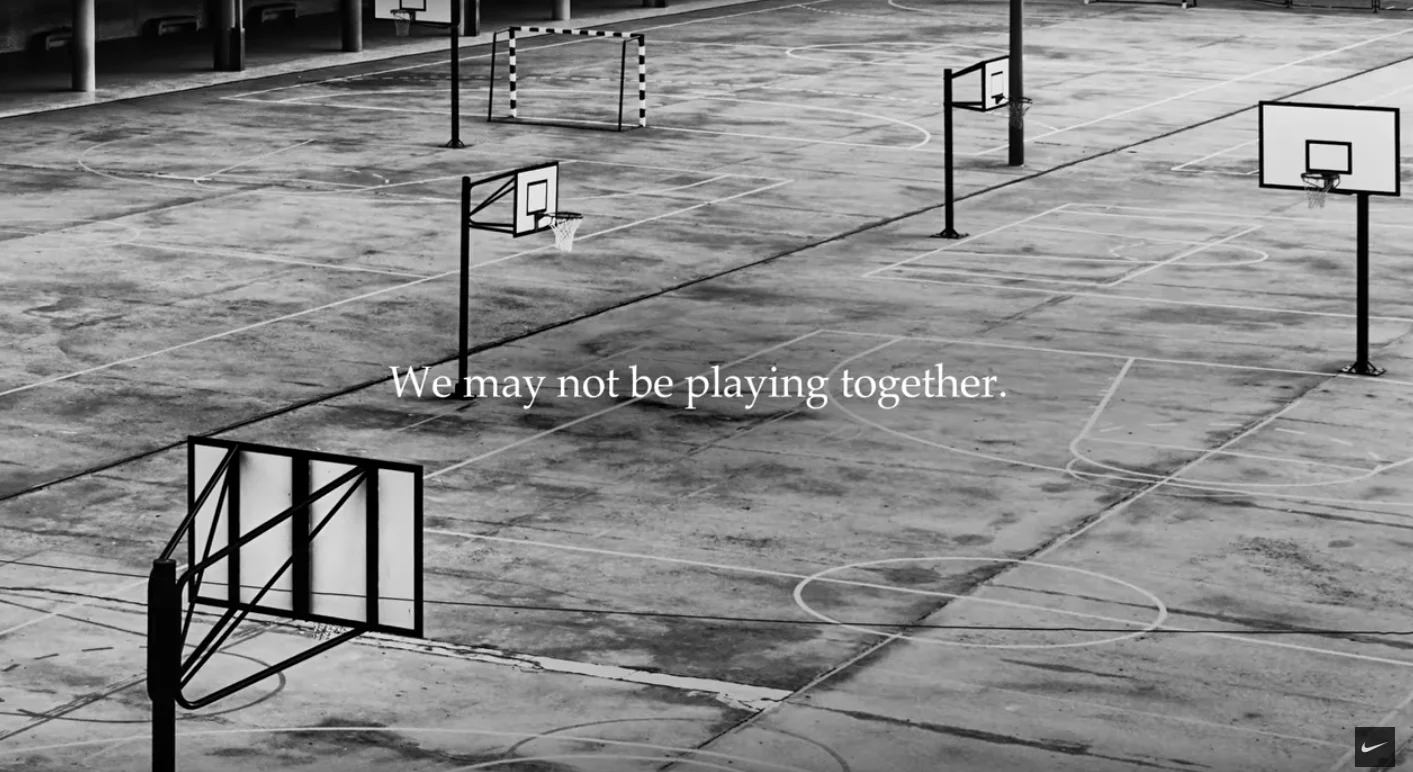 Nike: Play for the World
Zoom: Shorten the distance
Marketing Company What's In a Name: #QuarantineLife
Durex: Quarantine Safety Tips
Yongkang Police Precinct in Tainan: Traffic control measures on Tomb-Sweeping Day
Source: Marketersgo.com
More
---
Competition for YouTube, Twitch: Facebook Gaming App Hits the Market
Facebook is launching a new gaming mobile app known as Facebook Gaming on April 20 that will first offer an Android version and come out with an iOS version at a later date once Apple approves it, according to the New York Times. The move is aimed at grabbing a share of the competitive live game streaming market. Facebook Gaming allows users to livestream mobile games directly from their smartphone to Facebook, eliminating the need for complicated settings or operations. Once people are live, streams will appear on their personal pages, making it easier for friends and followers to watch. The app has lowered the streaming threshold and will encourage more participation. Facebook said on the day of the launch that it has teamed up with several well-known gaming streamers.
Source: Liberty Times
More
---
Tourism Industry Update
---
Taiwan Outbound Departure Statistics, January-March 2020
Taiwanese went abroad 2,116,648 times in the first quarter of 2020, down 49.17% from the 4,164,364 times they went abroad in 2019 Q1.
The top destination for outbound travelers from January to March 2020 was Japan, followed by China, South Korea, Vietnam and Hong Kong. Because of the COVID-19 outbreak, however, travel to all five destinations was down from same period a year earlier, falling by as much as 70.01% to Hong Kong.
There were still some destinations to which outbound visits grew in the first quarter of 2020. Departures were up 28.75% year-on-year to Brunei and up 3.02% to New Zealand.
Source: Tourism Bureau Monthly Statistics
More
---
Latest DGBAS Economic Indicators for Taiwan
Monthly regular wages in the industrial and service sectors in February 2020: NT$42,317, down 0.99% from the previous month
Unemployment rate in March 2020: 3.72%, up 0.02 percentage points from previous month
Per Capita Income: 2019 Q4 NT$182,578, up 1.69% year-on-year
Source: DGBAS Latest Indicators
More
---
'Korea Wants to See You' – Touring Korea Online
The Taipei branch of the Korea Tourism Organization has taken steps to stay connected with people in Taiwan during the COVID-19 outbreak. It is replacing lectures on travel in South Korea posted on its Free@KOREA Facebook page with "Korea Wants to See You" videos hosted by a variety of people knowledgeable about tourism in the country. The first video was posted on April 24. The office is also planning an activity to pray for no more confirmed cases of COVID-19 in Korea and Taiwan.
Source: 7to.com.tw
More
---
Second Relief Package for Tourism Sector Unveiled
Companies in the tourism sector have battered by the new coronavirus epidemic. After holding several meetings with representatives of those companies and people involved in the industry, the Ministry of Transportation and Communications on April 13 approved a second package of relief measures for the sector proposed by the Tourism Bureau. Applications for the assistance can be filed immediately.
Source: Tourism Bureau, Ministry of Transportation and Communications
More
---
In Move to Help Airlines, Passenger Aircraft Allowed to Transport Cargo
The global COVID-19 pandemic has brought air travel to a near standstill. The Civil Aeronautics Administration began in March to accept applications from airlines to turn passenger aircraft into cargo planes, and approved the loading of cargo in passenger cabins on April 17. Transportation Minister Lin Chia-lung said the move will earn airlines extra income, helping them defray some of their losses.
Source: Newtalk
More
---
Lion Travel Looks to Boost Business through Agricultural Partnership
At a time when businesses are struggling because of the new coronavirus outbreak, the agriculture and travel sectors have decided to team up to help each other find new sales channels and opportunities. Council of Agriculture head Chen Chi-chung and Lion Travel Chairman Jason Wang announced the plan at a press conference.
Source: Central News Agency
More
---
Travel Industry Expects Focus to Be on Short-haul Market Post-epidemic
The global coronavirus pandemic has brought group tours to a halt, creating a "tsunami" that has seriously damaged the travel industry. At a time when travel agents and tour operators are bleeding money, what strategies can companies and the industry follow to generate revenue, lower overheads, and survive?
Lower the base pay of top executives/middle management and then consider furloughs for employees
Each company should adjust and realign its budget and expenses to match their real needs
Travel sector must do its best to retain employees and investors
With international destinations off-limits, focus now and as the epidemic eases should be on healthy leisure activities such as hiking tours and short-haul destinations
Source: Up Media
More
---
Media News
---
Make Consumers' Hearts 'Riot' – 4 Keys to Success during the Epidemic
The wide-ranging effects of the COVID-19 epidemic continue to evolve, and while we have no choice but to accept the outbreak's impact, we can still think about how to turn a bad situation into a positive opportunity.
Marketing Opportunity 1: News channels not only drawing eyeballs but also ad revenue

The number of viewers reached by news channels has increased by 10-15% during the outbreak, and that reach stayed solid even during the 228 long holiday.
The increase in viewers has been across all demographics, including a 12% increase among female salaried workers. Students in particular have paid more attention to the news during the epidemic, with student viewers increasing 57%.
There has been a change in the composition of ads on news channels. Aside from healthy foods, medications and supplements moving into the top 10 categories, games and educational ads also joined the club, increasing their air time by 91% and 73%, respectively.
Marketing Opportunity 2: Hot Search Keywords, Capitalize on Non-epidemic Opportunities
Market Opportunity 3: #hashtag – Follow the Epidemic Prevention Wave
KOC (key opinion consumers) have to live life their own way, even if they have to stay at home. Many have adopted some stay-at-home trends from abroad and moved bigtime into #hashtag. New opportunities are hidden in these epidemic prevention #hashtags.
Marketing Opportunity 4: Fun Home Interaction Resonates on Social Media
How can you expand epidemic-related topics into interesting points and attract interaction? Actually, every hot topic can be used by a brand, but the key is staying fun, being relevant to the brand and creating buzz.
Source: Carat News, April 9, 2020/April 20, 2020
More 1
More 2
---
Analysis of Share of Voice of COVID-19-related Issues on Social Media
Consumer Report for March
Amid discussion of daily living needs, the leading topic of interest was none other than toilet paper, followed by dry groceries that households often keep in reserve.
YouTuber Consumer Share: The top three were Chien-Chien (Chien-Chien's Eating), TGOP (@thisgroupofpeople) and Tsai A-Ga.
Hot Topics among Consumers in March: Restaurants and food along with the international situation were the topics most shared by consumers.
Source: Eastern Online
More
---
2020 Pixnet Social Survey: Ads Geared to Converting Sales
Social media has become inseparable from daily life, serving not only as a place where people can interact but also as an important source of information. Taiwanese social network website Pixnet began in 2019 to issue an annual survey on social media user behavior in Taiwan called the Pixnet Social Survey, hoping to give brands and marketers insight into who social media users are and their usage habits. The 2020 survey has just been released. Here are some of its findings.
Men More Likely to Use Forums, Women more into Instagram
60% in the Habit of Following Experts/Famous People/Internet Celebrities, but only 7% Are Paid Subscribers
Sources: CNEWS/PIXNET
More

---
Summary of 2020 Social Network Platform Trends
Social Network Platform Privacy
Facebook faced several privacy issues in 2019, leading several major social platforms to begin efforts to adjust their approaches to privacy or put more emphasis on keeping personal information confidential. This will be a key issue for these platforms in the near future.
Social Media vs. Social Responsibility
Facebook has been plunged into controversy over the leakage of personal information. In an age in which people are highly dependent on social media, social network platforms are gradually recognizing they have a social responsibility. For example, Facebook began last year to delete fake accounts, move toward setting stricter guidelines for ads and update its algorithms. These all reflect an awareness of the need for social media to act more responsibly.
Greater Emphasis on Generating Content
Instagram has experimented with a "Hidden Likes" concept that has put greater emphasis on internal output or photo arrangements rather than using large number of "likes" to draw more followers. It gives people who are just starting out greater opportunity for exposure. This is indicative of the trend toward revised UI.
Income and Advertisements
Every social network platform eventually has to figure out how to operate in a way that allows them to make money. To achieve profitability and income goals, these platforms share income with content creators based on their contributions to encourage them to produce content on the platform and generate content and traffic, and then attract more advertisers into placing ads on the platform.
Sources: Cyberbiz
More
---
Still Going on Instinct on KOL Marketing? Data a Better Way to Devise KOL Strategy
During the new coronavirus outbreak, some brands are shifting their marketing budgets to online campaigns, with many opting to use key opinion leaders (KOLs) to pitch their products. But what is the most effective way to leverage KOLs and internet celebrities?
Look for KOLs showing rising "follower increase rates" and then look at view rates and engagement rates to identify KOLs with highly loyal followings
Capture keywords from the posts of the KOLs and apply machine learning tools to them to quickly judge the types of content each KOL posts and then check the effectiveness of related posts.
If the goal of a marketing campaign is to increase the brand's reach and exposure quickly, you can choose to put out a YouTube video with a "mega" KOL – this strategy can deepen consumer recognition of the brand and its products' functions; brands can then supplement the strategy with images or videos from "micro" KOLs (who have smaller but more concentrated followings) to communicate in greater depth how users can interact with the products and build greater trust.
Concentrated exposure through the posts and hashtags of "nano" influencers can leverage the stickiness and interactions of those KOLs to expose followers to their social network's word-of-mouth and get people in a buying mood.
---
Social Media Marketing – How to Use IG Hashtags to Market Brands
Many brands are active on Instagram, using attractive images to draw followers. Brands that want to get more potential customers to see its posts can use leverage hashtags to expand their reach, but they have to keep one thing in mind one:
Too many hashtags that are unrelated to the posted images will adversely affect views; only precisely targeted hashtags can increase the reach of a brand's posts.
Three Tools Recommended for IG Hashtags
Hashtag Generator Tool
This free hashtag tool developed by Influencer Marketing Hub recommends hashtags based on specific images. Just upload a photo, and the tool will recommend a few hashtags based on what it sees.
Instagram Tags
Helps find an appropriate hashtag based on the tag category selected; when brands or stores are looking for a hashtag suitable for their line of business, they can check the website's recommendations
Hashtag – tags for Instagram (APP)
Can be downloaded for free; users can select hashtags through a category and then directly copy and paste the tags into Instagram pictures. Users can also provide their own Hashtag themes and stores can create their categories (such as new product promotions, shoe recommendations) that can be used as hashtags in future posts as needed.
Sources: SHOPLINE
More
---
Case Study
---
VoiceTube English Language Day Event
Campaign Background:
Asia's largest online language-learning platform VoiceTube held a VoiceTube "English Language Day" on April 23, the date traditionally observed as both the birthday and date of death of William Shakespeare. The event involved a series of online learning activities encouraging people to take advantage of downtime during the COVID-19 epidemic to strengthen their English skills. It was VoiceTube's first event marking this festival, and the campaign focused on helping build brand identity and grabbing the attention of consumers.
Campaign Features:
Do you face English language barriers? It's not unusual to hear people who have tried to learn the language for a long time talk about how their skills fell short when they actually had to use English on a trip overseas, in a job interview, or when making new English-speaking friends or preparing for tests.
Based on that insight, the campaign set up a game on the event website with the tag "Baffled by English? Want to Be Set Free?" that was a play on a local saying that people haunted by ghosts should draw fortune sticks at a temple to set themselves free. It enticed consumers to draw fortune sticks and see what kind of English-speaking scenarios gave them trouble.
The fortune stick concept was a hit and was extended to ad displays on the insides of a select subway train. The subway displays were a series of six different posters that drew the eyes of passengers to the VoiceTube event the moment they got on and increased exposure among potential consumers.
The goal of the VoiceTube English Language Day event was to encourage people to learn English online in a relaxed atmosphere, and the campaign enlisted KOL A-Hsia to make a cameo appearance. The campaign's main visual was an image of A-Hsia telling a foreigner "I'm so hot!" to convey a simple message: people can learn English through VoiceTube.
The visuals also stayed true to the VoiceTube brand's purple color to strengthen association with the brand and were showcased on the event's website and as part of English Language Day ads on the exteriors of buses in the Greater Taipei area.
More: VoiceTube English Language Day Event Site
---
---